"I learned there's no perfect house that suits all your needs, so you have to prioritise and make sacrifices."
"I would hang out at Orchard Road all the time when I was young. I always dreamt of staying near town," says Xiang Jing. He held on to his childhood dream, determined to make it come true. And sure enough, as an adult, the frugal civil servant saved up until he was ready to turn this dream into reality. Then he set out methodically, strategically — and as some might say, obsessively — on his mission.
First off, he spoke to his banker to determine 'the quantum' he was comfortable spending.
Then he listed his criteria. He wanted a property in a good location near town, namely district nine, ten or one, with an unblocked view. He also wanted it to serve as a good investment. And he wanted a two-bedroom freehold.
Finally, Xiang Jing was ready to search, and he went at it with unbridled passion.
"The advent of technology allowed me to search, evaluate and shortlist properties according to my search criteria 24/7. I was practically on the PropertyGuru app at every possible moment – in the toilet, on the train and even when was I passing by a particular prospective development!"
Buying a condo as a single won't cost you an arm and leg….if you know where to look. Here are 12 freehold condos under 600k for singles.
For over a year, he would identify viable properties and go view them — all of them. He reckons he would view up to 16 houses a day on weekends.
A true education
This intensive property search was nothing if not educational.
"I learned there's no perfect house that suits all your needs, so you have to prioritise and make sacrifices."
In Xiang Jing's case, the sacrifice was space. Originally, he wanted a two-bedroom condo large enough for him and his parents. But circumstances changed and his parents decided to renovate their flat in Choa Chu Kang instead.
He realised he could get by with a one bedroom, so he adjusted his search criteria.
In the end, he found a one-bedroom condo on Leonie Hill with a beautiful unblocked view of his beloved Orchard Road. It's not quite as big as he would like, but it is just what he wanted to fulfil his dream of living in town.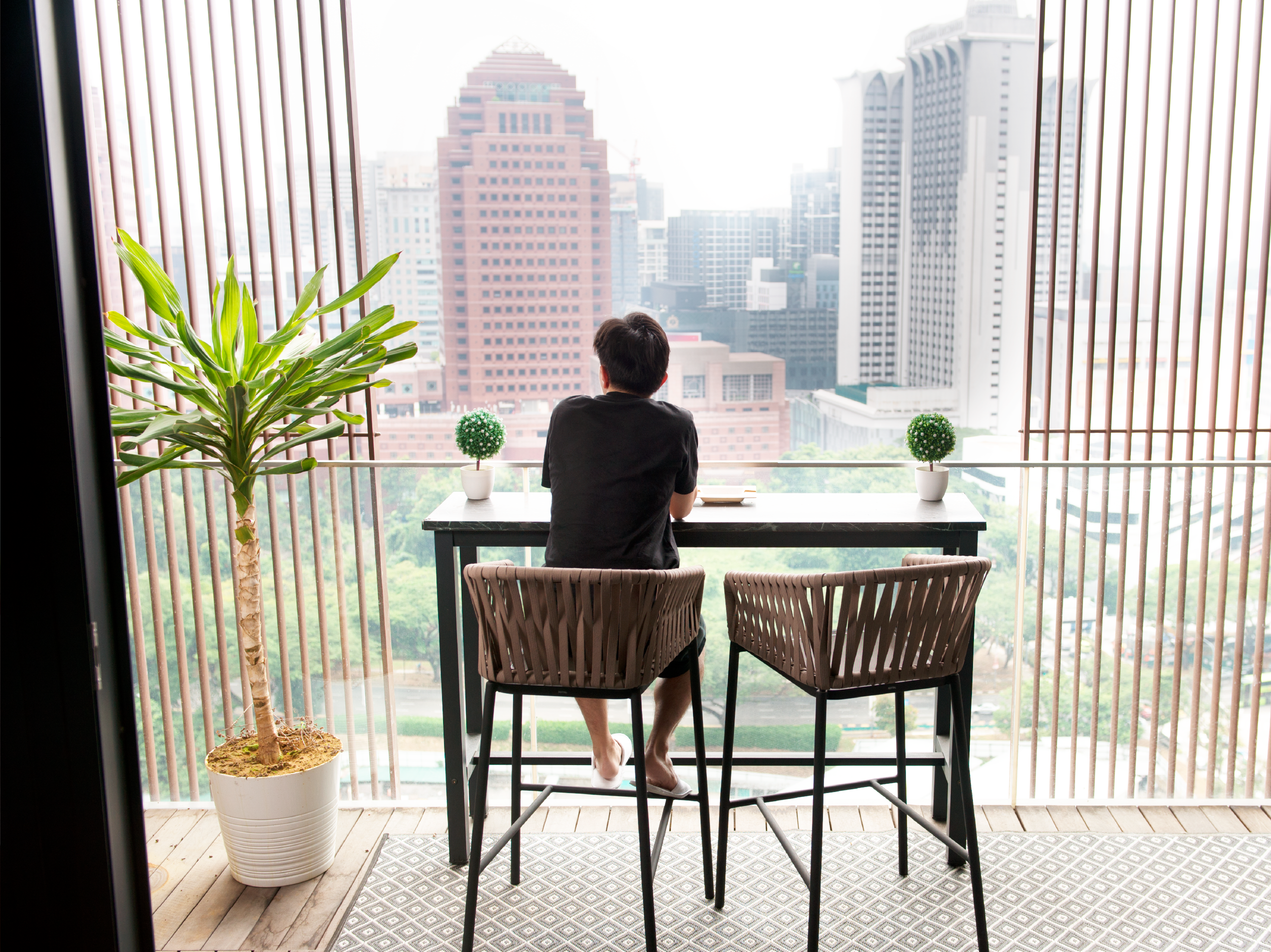 Want to live in the pulse of the city? Find all homes for sale/rent on PropertyGuru
"The amount that you pay, the age, the location, they are all factors pulling in different directions, you have to come to a compromise."
Small, functional and flexible
Xiang Jing has overcome the small living space with clever design.
A moveable wall separates the living room from the bedroom. The kitchen is hidden away — in what looks like a wardrobe — until it is needed.
He opted for individual furniture pieces instead of built-in cabinets so that he could move them around to change the view whenever he wanted.
It fit his lifestyle and made an impression on his friends and family too, "They all were very surprised by the design concept and they really liked it."
For someone who initially wanted an investment property, Xiang Jing found something more important than resale value.
"After owning my own space, I have been spending time doing it up, and hosting a lot of gatherings with family, friends, and colleagues. And these special moments, filled with fun and good laughter, make lasting memories of the time spent in the apartment. To me, that's the most valuable part about having my own house."
Read more stories of people and their home journeys. Or find a home on PropertyGuru.