With the HDB resale market still looking bullish, perhaps now's a good time to finally set out what you've been aiming to do — sell that BTO flat and upgrade to an executive condo or condo. Provided you've completed your 5-year minimum occupancy period, of course.
On the other hand, our Singapore Property Market Index Q3 2021 also reported that private property prices, though still on the uptrend, are slowing. There's also been a 17.6% increase in the PropertyGuru Singapore Property Supply Index, which means that you may even have more units to choose from.
And after working from home for a full year or more, many are looking for more space and privacy, especially millennials who need to focus on work.
If you're currently living in a rental or itching to flip your BTO for something more 'atas' (upper class), check out these new executive condominiums (also known as ECs) and condos set to launch in H2 2021.
New Executive Condo and Condo Launches in H2 2021
Last year was a bumper year, with almost 27 new executive condo and condo launches for buyers to choose from. This year, we're looking at a more modest 19 new launches. If you're interested, some of us at PropertyGuru also have zoomed in on our personal picks and why we like them.
Related article: 2020 New Launch Condo Report Card: Which Were the Most Popular Condos This Year?
For the second half of 2021, we can expect 10 new launches. These include an executive condo and condos; you'll find some en bloc properties, and the building formerly known as Liang Court is launching as well.
New Executive Condo and Condo Launches in H2 2021
| | | |
| --- | --- | --- |
| Development name | District | TOP |
| Pasir Ris 8 | 18 (OCR) | 2027 |
| The Watergardens at Canberra | 27 (OCR) | 2025 |
| Bartley Vue (aka Parc Rampai) | 13 (RCR) | 2026 |
| Klimt Cairnhill (former Cairnhill Mansions) | 11 (CCR) | 2024 |
| Parc Greenwich (EC) | 28 (OCR) | 2026 |
| Peak Residence (former Peak Court) | 11 (CCR) | 2028 |
| Canninghill Piers (former Liang Court) | 6 (RCR) | 2024 |
| Phoenix Villas (formerly Phoenix Road en bloc) | 23 (OCR) | 2025 |
| The Commodore at Canberra | 27 (OCR) | TBA |
| Perfect Ten (former City Towers) | 10 (CCR) | TBA |
New Executive Condo Launch in Singapore (H2 2021)
Executive Condo fans, look sharp. Because there's only one on this list, competition is going to be stiff. Other ECs that also launched this year are Parc Central Residences and Provence Residence.
1. Parc Greenwich EC
Located at Fernvale Lane in District 28, this project by Frasers Property Limited has a total of 496 units available, from 2BR + study to 5BR units. Nature lovers can look forward to living surrounded by greenery (land size of over 184,000 sq ft) and a mostly unblocked view due to the low-rise residential housings around.
Don't let its OCR location turn you off, though. Parc Greenwich is close to Fernvale LRT station, which links to Seletar Mall. There's also Greenwich V Shopping Centre (it's just opposite), foodie spots (Jalan Kayu prata, anyone?) as well as renowned schools in the area: Fernvale Primary School, Nan Chiau School, Mee Toh School, CHIJ St. Joseph Convent, Rosyth School, Pei Hwa Secondary School and Hougang Secondary School. Soon, a park will be built right next to the development as well.
Browse all Parc Greenwich units for sale on PropertyGuru.
New Condo Launch in Singapore (H2 2021)
If you'd rather not vie with others for the sole executive condo this H2 2021, there are a bunch of condos in the OCR that are pretty value for money as well. However, if you have the cash to splash and "luxury" is your middle name, there are some high-end properties to suit your taste.
2. Pasir Ris 8 Condo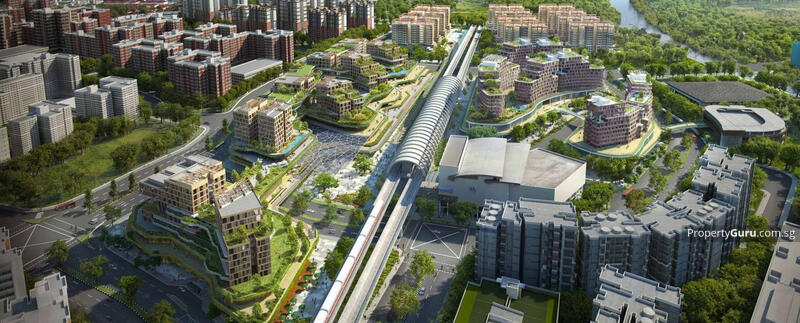 East side, best side? Pasir Ris 8 condo, in District 18, is close to a slew of amenities such as White Sands Mall, Pasir Ris Park, Downtown East, Changi Airport, Pasir Ris hawker centre, Pasir Ris Primary School and the upcoming Integrated Transport Hub.
The condo, which will house 487 units when completed, sits on a total land area of over 400,000 sq ft. As part of an integrated development, residents will enjoy the commercial component and the linked future bus interchange. There'll also be other new amenities such as a polyclinic, town plaza with open spaces and a pedestrian-friendly pathway.
Browse all Pasir Ris 8 units for sale on PropertyGuru.
3. Peak Residence Condo (former Peak Court)
Located along Thomson Road in District 11, the Peak Residence freehold condo sits on a rare residential site that's over 57,000 sq ft – a result of the en bloc sale of Peak Court in 2018. There will be a total of 90 units available, which adds to the development's "limited edition" feel.
True to its prime district status, Peak Residence boasts premium class living with top-notch designer fittings and functional living space. It's close to amenities such as Velocity @ Novena Square, Square 2 and United Square, as well as top schools like CHIJ Primary & Secondary (Toa Payoh), Catholic Junior College, ACS Barker Primary, Singapore Chinese Girls' School, Laselle's Winstedt campus, SJI International, and more.
Browse all Peak Residence freehold condo units for sale on PropertyGuru.
4. Canninghill Piers (former Liang Court)
Remember when Liang Court was vacated and subsequently torn down? It is now reincarnated as Canninghill Piers condo, jointly developed by City Developments Limited (CDL), CapitaLand Limited (CapitaLand) and Ascott Reit.
When completed, the 696-unit integrated development will boast two residential towers, a commercial component, a hotel and a serviced residence with a hotel licence. A delight for party animals, they'll not only live in the heart of Clarke Quay's vibrant nightlife district, but they'll also be close to the riverfront and can enjoy unblocked views of the Singapore River and Fort Canning Hill.
Browse all Canninghill Piers units for sale on PropertyGuru.
5. Klimt Cairnhill (former Cairnhill Mansions)
The freehold Klimt Cairnhill condo is yet another rare gem in District 11, the result of the collective sale of Cairnhill Mansions in October 2018. Developed by Low Keng Huat Singapore Ltd, it will have 138 units (two of which are penthouses) and will feature a luxe design, premium fittings and facilities such as an L-shaped pool that combines a 50m lap pool and kids' pool, poolside pavilions, gardens, a gym and an entertainment room. During golden hour, the building will stand out even more, with its gleaming gold-gilded facade.
Located between Newton MRT and Orchard MRT, the freehold condo will be close to a slew of amenities that include the Orchard Road shopping belt, a medical centre and hospitals, popular primary schools (St Joseph's Institution, Singapore Chinese Girls' School, ACS Barker, Anglo-Chinese School Primary, etc) and more.
Browse all Klimt Cairnhill units for sale on PropertyGuru.
6. Phoenix Villas (formerly Phoenix Road en bloc)
In late 2018, a row of apartments along Phoenix Road was put up for collective sale at $42m. This development included commercial shophouses as well. Fast forward to July the following year, the property was sold to CNQC Realty (Treasure), a subsidiary of developer Qingjian Realty (South Pacific) Group, for $42.6m.
From the same spot, Phoenix Villas will soon rise; it is due to TOP in 2025. Located in Bukit Panjang, in District 23, the condo will offer configurations from 1BR to 4BR units. It's a stone's throw away from Phoenix LRT station, with new amenities such as a hawker centre, integrated healthcare facilities, an upgraded sports complex and an upcoming SAFRA Clubhouse in the town park by 2022. Existing shopping malls nearby include Bukit Panjang Plaza, Junction 10, Hillion Mall and Teck Whye Shopping Centre.
7. Bartley Vue (aka Parc Rampai)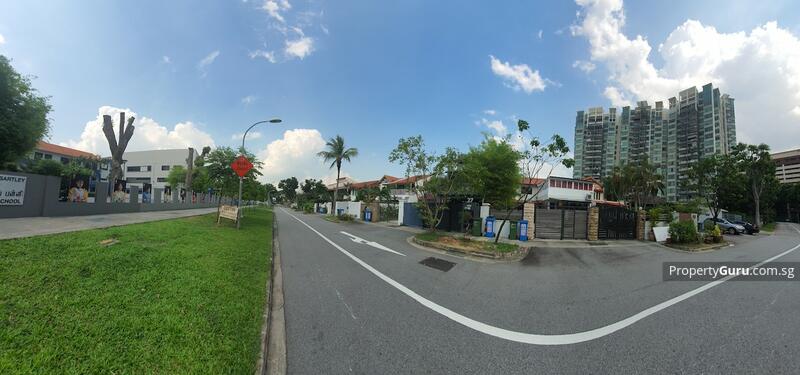 Located along Jalan Bunga Rampai, this 115-unit condo in District 13 was initially named Parc Rampai. We now know it as Bartley Vue, which is equally fitting, as the development is just 388 metres from Bartley MRT station and offers luxurious details — think penthouse units, themed gardens and a Clubhouse that sports a lavish restaurant setting.
Bartley is also a fantastic location in terms of connectivity, amenities and top schools. For one, residents can access seven different MRT lines within five stops from Bartley MRT station, which means easier access to all corners of the island.
Although there aren't any malls in Bartley itself (for now!), this excellent connectivity makes it easy to head to NEX at Serangoon, Toa Payoh HDB Hub and more. Parents can also send their kids to top schools that include Maris Stella High School and Paya Lebar Methodist Girls' School.
Browse all Bartley Vue units for sale on PropertyGuru.
8. The Watergardens at Canberra
There has been a lot of activity in Canberra ever since a new MRT station with the same name opened there. You'll find a new mall (Canberra Plaza), upcoming sports hub Bukit Canberra and a slew of new BTOs, executive condos and private condos.
The Watergardens at Canberra aims to provide a resort-style living environment, with features such as a Water Jet Terrace, Recreation Lawn and Savoury Garden & Harvest Pavillion. Parents will be happy to hear that Ahmad Ibrahim Primary School, Sembawang Primary School and Yishun Primary School are within 1km of the development.
In addition, there are plans to turn the north side of Singapore into a new business district with the North Coast Innovation Corridor and the nearby Sungei Kadut industrial estate will also undergo a revamp.
Browse all The Watergardens at Canberra units for sale on PropertyGuru.
9. The Commodore at Canberra
Here's another private condo to consider within the Canberra area: The Commodore at Canberra. Yup, District 27 is getting lots of action this H2 2021. Similar to The Watergardens at Canberra, you'll have access to the same surrounding amenities and schools within the neighbourhood (the two private condo developments are side by side).
What's different, of course, is the theme of the property. Where The Watergardens is all about sprawling nature and water landscapes, The Commodore is about being the president of your personal resort, with more geometric design elements connecting nature and water features.
10. Perfect Ten (former City Towers)
Isn't it, well, perfect, that a condo named Perfect Ten (or some call it Perfect10) is in District 10 and freehold to boot? Sitting on the site of what was previously City Towers, Perfect Ten is the result of a $401.9 million en bloc sale in August 2019, the fourth collective attempt that almost didn't happen.
Developed by Japura, with links to Hong Kong business magnate, investor and philanthropist Li Ka-Shing, you can be sure there are plans for Perfect Ten to be nothing short of perfect. Designed with grand luxury in mind, its twin towers maximise sweeping views for all the units and visitors/residents will be welcomed by a 100m-long driveway and impressive 10m-tall rose gold drop-off point architecture.
In addition, residents can enjoy views from the sky bridge, where one side faces the verdant Bukit Timah Nature Reserve, and the other, the magnificent Singapore city skyline. It's also near to top schools that include ACS (Barker Road), Singapore Chinese Girls' School and more.
Good Mix of Executive Condos and Condos to Expect in H2 2021
With the executive condos and condos located in various parts of Singapore, spanning the CCR to the RCR and the OCR, homebuyers have a good mix of non-landed private properties to choose from. Some highlights are Parc Greenwich as the only executive condo launch, Bartley Vue for its great connectivity, Canninghill Piers for its iconic location, and the two properties in Canberra, an affordable and up-and-coming neighbourhood in Singapore.
As we're soon approaching the middle of H2 2021, we can't help but look ahead into 2022 and beyond… thinking if we should bide our time for the best pick or strike now before prices go up even more.
We're also anticipating the new ECs at Yishun Ave 9, Tampines Street 62 and Tengah Garden Walk, as well as the private condos at Cairnhill 16, Royal Oak Residences, Ang Mo Kio Avenue 1 and Kampong Bugis.
More FAQs about New Executive Condo and Condo Launches in Singapore
How to Buy a New Launch Condo in Singapore?
Firstly, stay up to date on the upcoming launches on PropertyGuru! From our listings, you can easily reach out to an agent who can help you with your preferred new launch condos. You can then visit the showflat to find out more.
Are New Launch Condos Bad?
In the world of property, 'good' and 'bad' are very subjective terms – everything is up to preference. There are many reasons why buyers may prefer new launch condos. Firstly, everything is brand new. Secondly, you have a wider selection of units available. Finally, there are often attractive discounts and promotions when you buy a property at launch.
Are New Launch Condos Profitable?
As with all investments, it really depends on luck, how seasoned a landlord you are, and how well you know the market. However, generally, if you buy a new condo at launch (especially if you enjoy early bird discounts), the price and value of it tend to appreciate in the few years it is built.
When Can I Buy a New Launch Condo After Buying An HDB?
If you or your co-owner of your HDB is a Singapore Citizen, you can continue to hold on to your HDB flat AND buy a new launch condo after the Minimum Occupancy Period, which is five years after taking possession of your HDB flat.
For more property news, resources and useful content like this article, check out PropertyGuru's guides section.
Are you looking to buy a new home? Head to PropertyGuru to browse the top properties for sale in Singapore.
Already found a new home? Let PropertyGuru Finance's home finance advisors help you with financing it.
This article was written by Mary Wu, who hopes to share what she's learnt from her home-buying and renovation journey with PropertyGuru readers. When she's not writing, she's usually baking up a storm or checking out a new cafe in town.