The role of the Housing Development Board (HDB) is to develop public housing to provide Singaporeans with affordable, quality homes, and a better living environment. The flat types that HDB constructed were thoughtfully designed to cater to a variety of living requirements and budget plans. 
Over the years, HDB has experimented with many different flat types. You may have heard of jumbo flats, executive maisonettes and landed HDB terrace homes. As HDB crosses its 60th year of founding, here's a lookback at five HDB flat types that were discontinued by HDB but remains ever so popular with homebuyers.
HDB Executive Maisonettes
Executive maisonette, or sometimes known colloquially as executive "man-sion-ette", is a type of HDB flat that features two floors within the same HDB unit. The HDB executive maisonette was last built in 1995 and has since ceased to exist as a housing type choice for new BTOs.
Compared to the typical HDB units, executive maisonette has multiple distinct characteristics that makes it unique. 
The most obvious characteristic is that each executive maisonette has two levels connected via a stairway. The first level of the executive maisonette is where your living room, kitchen and dining area are located with the bedrooms located on the upper (second) level. In terms of size, they are about 1,527 to 1,700 sq ft, which makes it much larger than your typical HDB units.
Besides having two storey, executive maisonettes also feature three bathrooms, which is one more than the typical HDB unit. This is partly because of the two-storey layout of an executive maisonette where the bathrooms need to be split between the upper and lower levels. 
Why Are HDB Executive Maisonettes So Popular?
Because of the layout and design of an executive maisonette, residents often feel like they're living in a landed home with two-storey access. While more expensive than "normal" HDB flats, these are way cheaper than other multi-storey homes, like private penthouses and landed properties. 
The sheer size of an executive maisonette is also one of the reasons why an executive maisonette is well-liked by homebuyers. The size of the executive maisonette is more than enough to house two family units under the same roof while still allowing both families to have your own personal space. It is about 20% larger than the 3Gen flats that are offered by HDB under the BTO projects.
Where Can You Find HDB Executive Maisonettes?
While HDB executive maisonettes have long been phased out, they are still available on the resale market. Some of common estates where you can find executive maisonettes include: 
Ang Mo Kio

Bishan

Bedok

Bukit Panjang

Bukit Batok

Choa Chu Kang

Hougang

Pasir Ris

Queenstown

Serangoon

Sembawang
If you like what an HDB executive maisonette has to offer, you can still get one from the resale market. Check out all the available executive maisonettes that are available on the resale market on PropertyGuru.
HDB Jumbo Flats
Another rare HDB housing type in Singapore is the HDB jumbo flat. To be precise, an HDB jumbo flat is actually a merger of two flats (3-room or 4-room) into one single unit. 
The reason why of HDB jumbo flat came into existence is because of an oversupply of HDB flats in Yishun and Woodlands back in the 1990s. As Yishun and Woodlands were still relatively new estates, there was a lack of nearby conveniences and amenities. As such, HDB didn't manage to sell away the flats in the usual BTO/SBF process. To avoid letting these flats go to waste, HDB then merged two HDB units into one and sold them as HDB jumbo flats.
Size wise, HDB jumbo flats are about 1,442 to 1,830 sq ft in size. That's about the size of two 3-room or 4-room flats combined. HDB jumbo flats have about seven rooms with huge living spaces. Some of them even come with their own balconies.
Why Are HDB Jumbo Flats So Popular?
In today's context, the size of HDB jumbo flat is a commodity that homeowners are willing to pay for. For the same price that you are paying for an HDB jumbo flat ($550,000 to $990,000), you can't find an existing HDB that is of an equivalent size. Thus, the balance between price and space is one reason why HDB jumbo flat is sought after.
The lack of supply of HDB jumbo flat makes it much more price resilient compared to other HDB housing types. There is finite supply as HDB currently has no intent to construct more of these HDB jumbo flats in the future. A well-maintained HDB jumbo flat will be able to withstand the test of time and fetch a good price even as its lease dwindles.
HDB jumbo flats are also a potential source of good rental income. With an HDB jumbo flat, you can choose to build a partition wall and rent out the space as almost a "complete" unit, rather than as bedrooms. This lets you earn monthly rental income while still ensuring that you retain your private and personal space.
Where Can You Find HDB Jumbo Flats?
In contrast to HDB executive maisonettes, HDB jumbo flats are much more concentrated in the Woodlands estate. They are also in much lower supply compared to HDB executive maisonettes. 
If you like what an HDB jumbo flat has to offer, make sure to snap up one before they disappear from the resale market. Check out all the available jumbo flats that are available on the resale market on PropertyGuru.
HDB Terrace Houses
Even more rare than HDB jumbo flat is the HDB terrace house. Not many people knew about HDB terrace houses until an HDB terrace house in Queenstown was recently sold for nearly $1m. 
HDB terrace houses is part of the legacy from the previous public housing agency known as Singapore Improvement Trust (SIT). This was before HDB was even formed. At that time, SIT developed HDB terrace houses as one of the public housing options for Singaporeans. When HDB took over SIT's role, these HDB terrace houses that were built between 1960s and 1970s were issued with fresh new 99-year lease. 
HDB terrace houses have the same look and feel as landed properties. There are, however, two key differences. Firstly, an HDB terrace house comes with a trademark HDB block number at the side of the walls, just like a typical HDB block. Secondly, you don't have a drive-in car porch, unlike landed properties.
Why Are HDB Terrace Houses So Popular?
The rarity of HDB terrace house makes it highly sought after. This explains why HDB terrace houses are still valued above $800,000 even though the space isn't exactly big (~900 sq ft), compared to HDB jumbo flats and HDB executive maisonettes. 
With HDB terrace house, you are paying the price of an HDB for the living experience of a landed property. For those looking to buy an HDB terrace house for own-stay, this makes it a value-for-money buy.
Where Can You Find HDB Terrace Houses?
There are only 285 HDB terrace houses located across the island. At the moment, there are fewer than 30 HDB terrace houses that are listed for sale on the resale market in areas like Jalan Bahagia, Jalan Tenteram and Stirling Road.
To find out more about HDB terrace houses that are listed for sale, check out the HDB terrace house listings on PropertyGuru.
DBSS Flats
DBSS flats, or Design, Build and Sell Scheme flats, are part of a short-lived public housing experiment by the HDB from 2005 to 2012. What differentiates DBSS from typical HDB is that they are built by private developers but have the characteristics of an HDB property, such as the 99-year lease. 
For DBSS flats, the developer will buy the land from HDB under the Government Land Sales programme. They will then carry out the design, planning, construction and sales of the project. In contrast to HDB flats, DBSS flats have more unique layouts and interiors resembling private condos, unlike the standard stuff that HDB offers. Within the DBSS units, you can also find features like balconies, study areas and floor-to-ceiling windows. 
Why Is DBSS Flat So "Popular"?
We wouldn't exactly say that DBSS flats are the most popular. Otherwise, the scheme wouldn't have been so short-lived. The biggest flaw for DBSS flats is that there were a lot of issues with the delivery. Buyers were unhappy over issues such as poor design, workmanship and defects. All these happened despite them paying a premium to the private developer to get a condo-like HDB unit. 
Where Can You Find DBSS Flats?
In total, 13 DBSS flat projects were sanctioned and completed between 2005 and 2012, amounting to 8,649 units. These DBSS flat projects include:
HUDC Flats
Housing and Urban Development Company, or HUDC, flat is an interesting housing type that was first built by the HDB back in 1974. It was introduced by the government to meet the rising aspirations of Singaporeans to own private homes. The target audience for HUDC flats were the middle-income who could more than afford HDBs but couldn't really afford to make the jump to private condos. In total, 7,731 HUDC flats were built in more than 40 years.
However, dwindling demand and the increased number of housing choices for homeowners led to the end of the scheme in 1987. Today, there are no longer any HUDC flats in Singapore as the last HUDC flat Braddell View was also privatised in 2017.
Now, if the concept of HUDC flat sounds familiar to you, it should. That's because it is the predecessor of the existing Executive Condo (EC) housing type that HDB is offering. 
Why Are HDB HUDC Flats So Popular?
Back in those days, HUDC flats were larger, better built, had fancier designs compared to HDB units. The largest HUDC flat that was built was around 1,700 sq ft, which is about the same size as an HDB jumbo flat.
HUDC flats' popularity stemmed from the fact that they provide an opportunity for Singaporeans to meet their innate desire to own a private property. Owning an HUDC flat is akin to a social status symbol that you have made it to a certain level in life.
Plus, as a property type that could eventually be privatised and sold to foreigners, HUDC flats were deemed to be a better store of value, compared to the usual HDB units. The spike in en bloc sales during the en bloc fever in 2011 also contributed to the popularity of HUDC flats.
Where Can You Find HUDC Flats?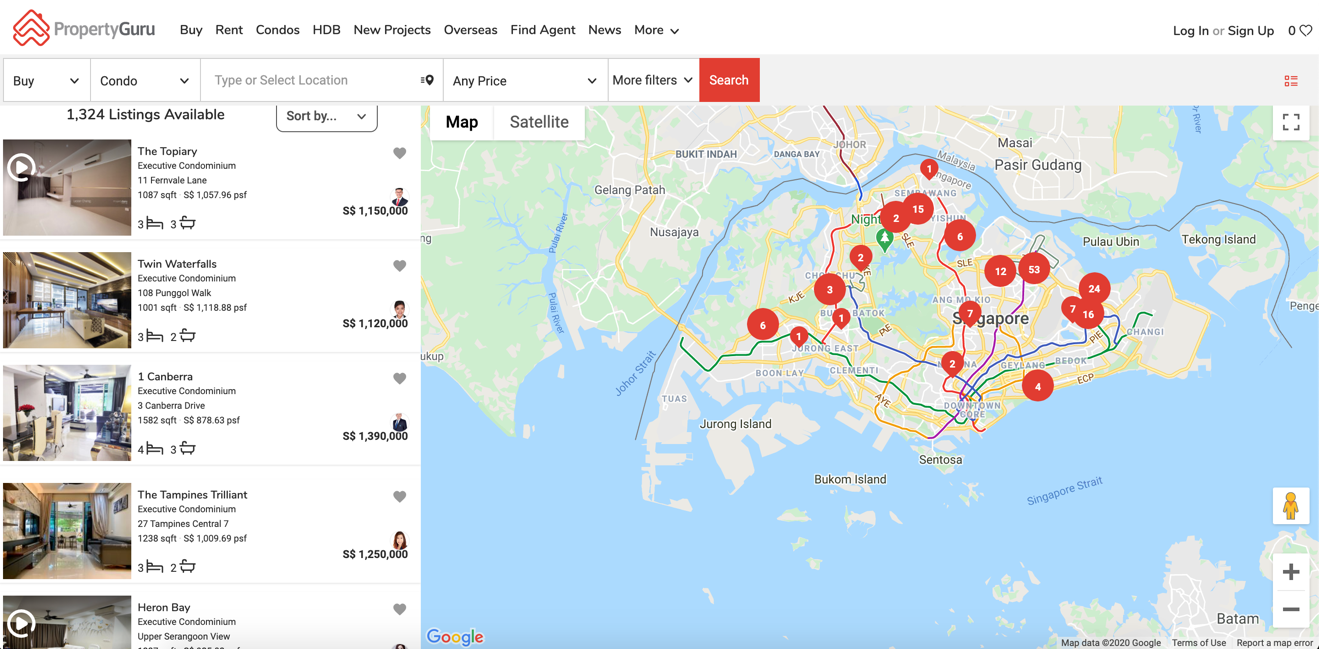 Since the privatisation of Braddell View, all HUDC flats have been privatised and turned into a private estate. There are no longer any HUDC flats in Singapore. However, in place of HUDC flats, there is the Executive Condo (EC) scheme. You can find more than 1,324 different EC units for sale on the resale market at PropertyGuru.
If you're keen on buying an HDB in Singapore, be sure to check out our step-by-step guide to buying an HDB in Singapore.
Want to view even more HDB listings? Check out our latest listings here for HDBs on sale in Singapore.
For more property news, resources and useful content like this article, check out PropertyGuru's guides section. 
Are you looking to buy a new home? Head to PropertyGuru to browse the top properties for sale in Singapore.  
Already found a new home? Let PropertyGuru Finance's home finance advisors help you with financing it.