For those with loft-y aspirations, you can either build a mezzanine floor in a private property or live in a loft condo unit. But what if you don't have the budget to purchase a private property? That's where HDB loft units come in.
Since HDB stopped building executive maisonettes in 1995, those who wish to purchase a similar unit type have turned to HDB loft units as it is illegal to build a mezzanine floor in HDB homes.
HDB lofts are presented as the newer, more 'evolved' version of the executive maisonette. They are two-storey units with a high ceiling and have a much larger living area than typical HDB flats. But in HDB loft units, bedrooms are on both floors; for executive maisonettes, the living area and bedrooms are on separate floors, with the bedrooms being on the upper floor. 
If an HDB loft unit is your ideal home, here are several HDB loft units you can consider.
Where to Find HDB Loft Units in Singapore for Sale
You'll be able to find HDB loft units in newer BTO projects such as Treelodge@Punggol, Punggol Sapphire, and SkyTerrace @ Dawson. Due to their popularity and relative rarity, you'll be hard-pressed to find any units on the resale market. And if you do, they tend to be pricey. 
Keep a lookout for such units by browsing all HDB loft units for sale on PropertyGuru.
Currently, most of the available HDB loft units are located along 89 to 91 Dawson Road. The SkyTerrace @ Dawson properties have recently fulfilled their Minimum Occupation Period (MOP).
| | |
| --- | --- |
| HDB estate | SkyTerrace @ Dawson |
| Flat type | 4A HDB flat |
| Size (sq ft) | 1044 |
| TOP date | 2015 |
| Nearest MRT station | Queenstown MRT station, Redhill MRT station  |
| Nearby schools | Queenstown Primary School, Queenstown Secondary School, Crescent Girls' School , Alexandra Primary School, Gan Eng Seng Primary School, New Ton Primary School, Zhangde Primary School |
| Nearby amenities | Sheng Siong, NTUC, Dawson Place, Dawson Shopping Mall, 7-Eleven, Alexandra Canal Linear Park, Dempsey Hill, IKEA Alexandra, Redhill Hawker Centre and wet market, Anchorpoint Shopping Centre, Queensway Shopping Centre |
Floor Plan for SkyTerrace @ Dawson Loft Units
Here is the floor plan for SkyTerrace @ Dawon loft units. Don't know how to read a floor plan? Not to worry, it's easy! Read our handy guide on floor plans to find out how.
1. 90 Dawson Road: $958,000
Asking price: Starting from $958,000
This high-floor 90 Dawson Road unit is a beautifully renovated apartment most would be happy to live in. When you step into the house, you'll be wow-ed by the amount of vertical space over the living and dining areas. 
It's clear the current owners favour an uncluttered space. But you could renovate and furnish your potential home however you wish. Do make sure you have the relevant renovation permits before you start.
Related article: 11 Renovated HDB Flats in Singapore That Look like Condos Inside
The light, neutral colour palette gives the home a casual, cosy feel. Wooden panelling was chosen for the accent wall to bring more attention to the height of the apartment. 
Looking at the floor plan, there are three bedrooms. However, the owners of the apartment have transformed one of the rooms into a walk-in wardrobe. The other room currently serves as a study room. If you're not intending to renovate, this is a great apartment for a young couple with no children.
2. 92 Dawson Road: $968,000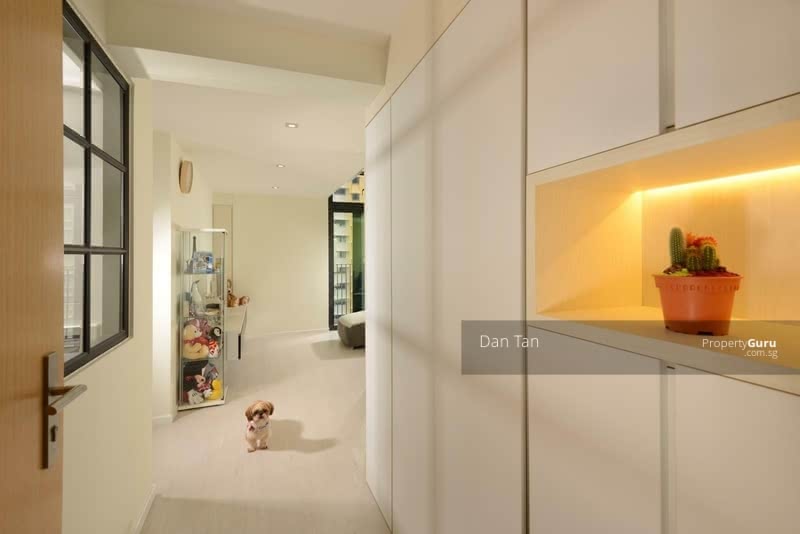 Asking price: $968,000 (price negotiable)
The staircase to the upper floors of this 92 Dawson Road unit is cleverly hidden by panelling that mimics minimalistic art. Having a white-on-white theme accentuates the space of the house and invites light in. 
The best thing about high-floor units is the unblocked view. In the case of many SkyTerrace @ Dawson apartments, residents look over greenery and the high-rise buildings along the Clarke Quay and Robertson Quay areas. 
Related article: 189 Tallest HDB Flats in Singapore With Over 30 Storeys for Unblocked Panoramic Views
Enter the kitchen and bathroom areas and you'll see how black detailing was incorporated into the design to create contrast. The result? A sleek and modern finish with differing finishes and patterns, lending depth and texture.
3. 89 Dawson Road: $1,000,000
Loft units are ideal if you're on the lookout for well-ventilated homes with lots of light. That's because large windows often accompany high ceilings. This 89 Dawson Road unit is another high-floor, bright and breezy apartment. 
The dark geometrical shapes, light-coloured wood flooring and concrete-inspired walls invoke industrial vibes.
Related article: What's the Best House-Facing Direction in Singapore? The Good, the Not So Good, and the Bad
From the pictures, it's clear each room allows for a queen-sized bed and then some. There is some in-built carpentry for more storage space. That could be convenient for those who have lots of items yet prefer a minimalistic bedroom aesthetic.
More FAQs about HDB Loft Units in Singapore
Can I Build a Loft in an HDB Flat?
No, it's illegal as a mezzanine floor creates additional load on the building's structure.
What Are HDB Loft Units?
HDB lofts are two-storey apartments with a high ceiling and bedrooms on both the first and second floors.
Are There Lofts in Singapore?
Yes, you can purchase a loft condo unit or keep an eye out for HDB loft units
For more property news, resources and useful content like this article, check out PropertyGuru's guides section. 
Are you looking to buy a new home? Head to PropertyGuru to browse the top properties for sale in Singapore.  
Already found a new home? Let PropertyGuru Finance's home finance advisors help you with financing it.
This article was written by Cheryl Chiew, Digital Content Specialist for PropertyGuru. Cheryl likes bread and cats, especially when cats tuck in their limbs so they look like bread. Drop her an email that hopes to find her well at cheryl@propertyguru.com.sg.