Shopping for a new home in the east side of Singapore? The November 2020 BTO launch will offer an estimated 750 Tampines BTO flats for grabs. These will come in the form of 2-room Flexi, 4-room, and 5-room unit types.
Almost adjacent to Bedok Reservoir Park, these Tampines GreenEmerald flats will provide a scenic and tranquil environment for residents. Despite being slightly further away from the heart of Tampines, the flats still offer good connectivity and decent nearby amenities. Most notably, it's mere minutes away from Bedok Reservoir MRT on the Downtown Line (DTL).  
Note: Application for the November 2020 HDB BTO launch has closed.
If you missed this cycle or were unsuccessful in getting a ballot number, here are the upcoming 2021 HDB BTO launches: 
February 2021 BTO Launch
May 2021 BTO Launch
November 2020 Tampines BTO overview (Tampines GreenEmerald)
| | |
| --- | --- |
| November 2020 Tampines BTO  |   |
| Tampines BTO address | Tampines Street 96 (u/c) |
| No. of units  | 750 |
| Unit mix | 2-room Flexi, 4-room and 5-room flats   |
| Nearby amenities | Bedok Reservoir Park, Bedok Reservoir MRT, Tampines West CC, SAFRA Tampines, HomeTeamNS Tampines, Changi General Hospital |
Tampines BTO location map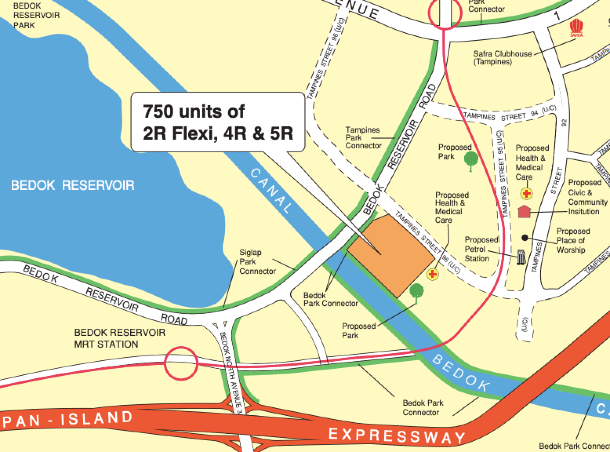 What to expect from this November 2020 Tampines BTO (Tampines GreenEmerald)
1) Bedok Reservoir Park: A haven for outdoor activities
Bedok Reservoir Park will be a mere 5-minute walk away from the Tampines BTO flats. Here, families can explore a full range of water-related activities like dragon boating, kayaking, or wakeboarding. They can also sign up for adventure packages and go through obstacle courses among the treetops.
For those who want a change of scenery, the BTO flats are also located at the intersection of the Bedok Park Connector, Siglap Park Connector, and Tampines Park Connector. There are also plans to build two new parks within the immediate vicinity. 
2) Easy access to the Bedok Reservoir MRT (DTL) and Pan Island Expressway (PIE)
The Tampines BTO flats will be just a few minutes walk from Bedok Reservoir MRT which sits on the DTL. From here, you'll be able to reach places like the CBD, Botanic Gardens, and even Bukit Panjang without having to switch trains. 
For drivers and riders, the Pan Island Expressway (PIE) will be only 850m away via Bedok North Avenue 3. Looking for an alternative route? Bartley Road is just a 5-minute drive away, giving you direct access to Serangoon, Paya Lebar, and the Lornie Highway.
3) From SAFRA Tampines to IKEA, there are many amenities nearby
Shopping and dining: Tampines 1, Tampines Mall and Century Square
Entertainment: SAFRA Tampines, HomeTeamNS Tampines, Tampines West CC and more 
Healthcare: Changi General Hospital and Saint Andrew's Community Hospital
Home essentials: IKEA Tampines, Giant Hypermarket and Courts Megastore 
Living in these BTO flats, you'll never run out of shopping options, foodie finds, and weekend activities. 
Tampines is a bustling hub of the East, with 3 malls and a lifestyle hub all conveniently located at Tampines Central (15-minute away by bus).
Looking for things to do in the immediate vicinity? Get involved with your community at Tampines West Community Club which is just a 4-minute drive away. Or make the most out of your National Service club benefits at SAFRA Tampines (3-minute drive) or HomeTeamNS Tampines (7-minute drive).
Venture out a little more and you'll find healthcare amenities such as Changi General Hospital and Saint Andrew's Community Hospital, which are only 5-minutes away by car. 
You can also find essentials for your new flat over at Tampines North Drive 2 (10-minute drive), home to IKEA Tampines, Giant Hypermarket, and Courts Megastore.
November 2020 Tampines BTO Review (Tampines GreenEmerald)
Tampines has been a hotspot for new BTO launches. There were two launches in 2019, and three launches so far in 2020. As such, you can expect a bustling and vibrant neighbourhood in the years to come.
Tampines BTO prices: How do they compare?
The actual prices for the Tampines BTO flats are as follows:
| | |
| --- | --- |
| Tampines BTO Flat Type (Nov 2020)  | Price (Excluding Grants) |
| 2-room Flex (40 sqm) | $130,000 – $155,000 |
| 2-room Flex (49 sqm) | $161,000 – $192,000 |
| 4-room | $334,000 – $410,000 |
| 5-room | $460,000 – $538,000 |
If you're looking at mature estates, the Tampines BTO flats are the most affordable. They're also likely to see the least competition when compared to the others (Bishan and Toa Payoh/Bidadari). 
More FAQ related to HDB BTO launches 
When can I apply for November 2020 BTO?
HDB BTO sales launches come around every quarter, in February, May, August and November. The actual dates are not announced in advance, so nobody knows exactly when November 2020's BTO applications will open; we just know it'll be within the month.  
How much is the downpayment for BTO?
Your downpayment depends on how much home loan you take. For example, if you are eligible and take the maximum of 90% in home loan from HDB, your downpayment will be 10%. For more home financing advice, read our guides or check out PropertyGuru Finance. 
How do I apply for HDB BTO?
You must apply for BTO flats directly from HDB during the month of your preferred project's launch. For example, if you're interested in these Tampines BTO flats, you must apply for them through HDB in November 2020. 
How long does BTO results take?
According to HDB's official timeline, BTO results take around three weeks from the date the application window closes. 
How can I increase my chances of BTO?
To increase your BTO ballot chances, you may apply through one of the HDB priority schemes. If you have had two or more unsuccessful tries (in a non-mature estate), your chances also improve. Read more about How to Ace Your HDB BTO Application And Increase Your Ballot Chances here.
Want to learn more about the other November 2020 BTO estates? Read about them here:
[article thumbnail="https://cdn-cms.pgimgs.com/static/2020/07/Illustration-of-Tengah-estate-in-the-day.jpg" title="November 2020 Tengah HDB BTO Flat Launch" category="Buying"]https://www.propertyguru.com.sg/property-guides/hdb-november-2020-tengah-bto-29326[/article]
[article thumbnail="https://cdn-cms.pgimgs.com/static/2020/07/There-are-many-reasons-to-be-excited-about-Sembawang.jpg" title="November 2020 Sembawang HDB BTO Flat Launch" category="Buying"]https://www.propertyguru.com.sg/property-guides/hdb-november-2020-sembawang-bto-29324[/article]
[article thumbnail="https://cdn-cms.pgimgs.com/static/2020/07/the-BTO-flats-will-be-situated-close-to-Bidadari-Park.jpg" title="November 2020 Toa Payoh HDB BTO Flat Launch" category="Buying"]https://www.propertyguru.com.sg/property-guides/hdb-november-2020-toa-payoh-bto-bidadari-29332[/article]
[article thumbnail="https://cdn-cms.pgimgs.com/static/2020/07/view-of-Junction-8-and-Bishan-bus-interchange-in-the-day.jpg" title="November 2020 Bishan HDB BTO Flat Launch" category="Buying"]https://www.propertyguru.com.sg/property-guides/hdb-november-2020-bishan-bto-29329[/article]
[article thumbnail="https://cdn-cms.pgimgs.com/static/2020/07/BTO-flats-will-be-launched-in-5-estates-in-November-2020.jpg" title="COMPLETE HDB's November 2020 HDB BTO Launch Information" category="Buying"]https://www.propertyguru.com.sg/property-guides/hdb-november-2020-bto-launch-29317[/article]
[article thumbnail="https://cdn-cms.pgimgs.com/static/2020/06/BTO-flats-were-last-launched-in-Bishan-in-2006.jpg" title="COMPLETE HDB's August 2020 HDB BTO Launch Information" category="Buying"]https://www.propertyguru.com.sg/property-guides/hdb-bto-august-2020-launch-28307[/article]
[article thumbnail="https://cdn-cms.pgimgs.com/static/2020/04/Singapore-private-property.jpg" title="COMPLETE HDB's May 2020 HDB BTO Launch Information" category="Buying"]https://www.propertyguru.com.sg/property-guides/hdb-may-2020-bto-launch-26217[/article]
[article thumbnail="https://cdn-cms.pgimgs.com/static/2019/09/Design-Ideas-to-Spruce-Up-Your-Balcony-Space-PropertyGuru-Singapore.jpg" title="You can also check out resale flats for sale in Tampines here." category="HDB Flat"]https://www.propertyguru.com.sg/hdb-for-sale/in-tampines[/article]
[article thumbnail="https://cdn-cms.pgimgs.com/static/2020/02/PropertyGuru-Logo-for-Guides-Red.png" title="Click HERE to get more interesting guides like this, or check out PropertyGuru." category="Property Guides"]https://www.propertyguru.com.sg/property-guides[/article]