Romance can mean different things to different people.
For some, it's a long stroll at the beach or in a beautiful park, a gentle breeze teasing your hair. For others, it's a vibrant setting that's full of sensory stimulation — buzzing non-stop with people and activity. It could be a location with iconic architecture, or somewhere that's brimming with the best entertainment and dining options.
Thanks to Singapore's extensive transport network, such places are easily accessible from all reaches of the island. But just imagine, how perfect if you could literally live there.
And you can.
We've shortlisted 8 neighbourhoods that boast some of Singapore's most romantic settings, along with some property thought-starters in each area.
1. Ang Mo Kio / Bishan / Thomson
Starting off with District 20, there's much to be seen here beyond the old-school charm of Shunfu, the hipster coffee joints at Thomson, or those $1 million maisonette flats in Bishan.
One of the most romantic spots is undoubtedly the MacRitchie Reservoir Park, 12-hectares of green lungs that border Singapore's first reservoir.
Stroll along the boardwalk and peer out at the serene waters, set aglow by the setting sun. Or bring along your binos to play spot the feathered friend with your significant other — some species include the Asian Red-eyed Bulbul and the multi-hued Van Hasselt's Sunbird.
If you and your partner are the sporty type, you can tackle a hiking trail to release those feel-good endorphins or even rent a canoe to share an intimate moment together.
As proof of its romantic appeal? Many couples choose to hold their solemnisation ceremonies in MacRitchie Reservoir Park as well. 
Young families can also consider heading to the nearby Bishan-Ang Mo Kio Park, for its unique meandering waterways, cycling paths and sloping grassy banks that are perfect for a picnic.
Looking for a home here? The new JadeScape condominium by Qingjian Realty is slated to TOP in January 2023.
Check out all the property listings in District 20 here.
2. Bidadari
Right now, Bidadari is mostly a construction site for about 10,000 HDB units. But you ain't seen nothing yet.
When Bidadari Park is completed in 2022, residents will have at their doorstep, "a rustic landscape with rolling hills, a boardwalk across a marshland and a unique rain tree 'island' set in the middle of a lake". 
And the park itself will be the size of about 15 football fields — with trails integrated throughout the estate.
But that's not all. Explore the adjacent Hillock Park, a "bird studio" that's home to hornbills and owls. You can also partake in shinrin-yoku or "forest-bathing", hand-in-hand with your other half — there will be more than 2,000 trees in the park, of which over 350 were retained, including a century-old tembusu tree.
Consider The Antares condo by developer FSKH Development. It's strategically located in the middle of three mega transformations — Bidadari New Town, Paya Lebar Regional Centre and Geylang Rezoning.
Some 881 Bidadari HDB residents have also been steadily collecting their keys to their units since last month.
Check out all the property listings in Bidadari here.
3. Bukit Batok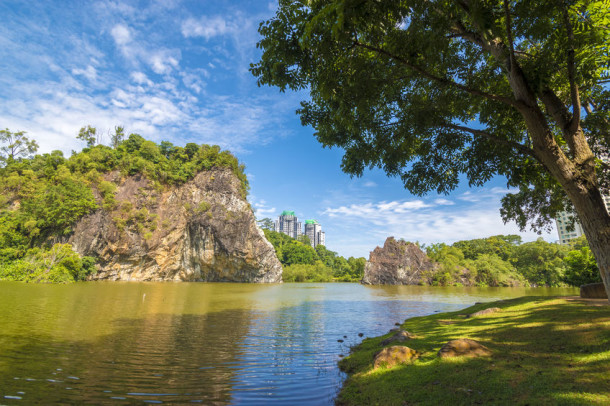 I can't speak for others, but sometimes I just want to feel like I'm on the set of a martial arts film. Plus, with the Hanfu fashion revival (a traditional Chinese dress), some couples are seeking out photo studios that will help them realise their Middle Kingdom dreams.
Bukit Batok Town Park, with its iconic granite rock backdrop and tranquil lake, looks like a miniature version of Guilin in China. If you're into ancient Chinese romanticism and want to feel like you're in a palace drama, Little Guilin is the place for you.
The rest of the park is also beautifully landscaped with paths along the bank of the lake — perfect for long walks and meaningful conversations. Shutterbugs and wedding couples might also want to note that the lawn space can be booked for your photoshoot or function (garden solemnisation, anyone?).
Midwood, a 564-unit residential project by Hong Leong Holdings, opened for public preview in October 2019. It is slated to TOP in September 2022.
You can also search for a HDB flat in Bukit Batok here.
4. Bras Basah / Bugis
Hello, arts, heritage and culture!
Big arts and heritage events such as the annual Singapore Night Festival and the Singapore Heritage Festival are always held in the Bras Basah.Bugis area. It's no surprise, because Singapore's main museums, monuments and art centres are sited there, alongside shophouses with a colourful past.
Go on a date at the nearby Haji Lane in the Kampong Glam area, where you'll be whisked away to charming alleyways of independent fashion boutiques and Middle Eastern cafes. Colourful wall murals are aplenty there, so go ahead and pose for an Instagram photo together — no filter needed.
When dusk falls, be entertained by the street buskers along the narrow lanes. You'll also find popular entertainment venues such as Blu Jaz Cafe.
Last year, a white site nearly the size of 14 football fields was launched in the Kampong Bugis area. We're excited, because it not only means there'll be upcoming housing, but also retail, offices and community spaces.
You can also check out the upcoming Midtown Bay condo by GuocoLand, which is estimated to be completed in 2022.
Make yourself at home in Bugis here.
5. Orchard Road
Bright lights, big malls, fancy restaurants and famous brands await you on Singapore's most famous shopping belt, Orchard Road. And it's a central location to boot.
Over at ION Orchard, you'll find not only an art gallery but a whisky museum as well. Or shop at the flagship outlet of TANGS, in the distinctive Tang Plaza. Then pamper your palate at one of the many Michelin-starred restaurants along this 2.2km stretch, such as Shisen Hanten (2 stars), Alma by Juan Amador (1 star) and Les Amis (3 stars). 
Date night will never be the same again.
For a post-dinner nightcap, chill at the acclaimed Manhattan Bar or head to the Emerald Hill area to nurse your tipple in a restored shophouse. 
Stay close to the glitz and glamour of Orchard Road at Cuscaden Reserve. The luxury condominium project of SC Global Developments, New World Development and Far East Consortium opened for private previews in 3Q 2019. 
Otherwise, consider other prime properties in the area.
6. Along the Greater Southern Waterfront
Just what exactly is the Greater Southern Waterfront and what's so alluring about this area? Isn't it just a fancy name for "the bottom part of Singapore that meets the sea"?
Well, in the next 5 to 10 years, this stretch from Pasir Panjang to Marina East will undergo a major transformation. The Pasir Panjang Power District will be redesigned, and there'll be better accessibility between the various parks and reserves.
Plans include a continuous waterfront promenade linking the new Pasir Panjang Linear Park to West Coast Park as well as Labrador Nature Reserve. In the future, a new funicular system might even be built to carry visitors from the foothills to the top of Mount Faber — making it easier to get to the main route of the 10km-long Southern Ridges trail and even Sentosa Island.
This ticks so many boxes: Long walks by the water's edge, check. Scenic walking trail, check. A fun-filled day out in your sexiest swimwear at a Sentosa beach club, check.
If you can't wait for new residential housing at the Keppel Club site, try to secure a unit at Avenue South Residence by UOL, UIC And Kheng Leong, which will boast stunning waterfront views.
Or find an apartment in Tanjong Pagar, which is close to both the CBD and the Greater Southern Waterfront.
7. Holland Village
Hang out with the cool cats at Holland Village, with its chill vibe and diverse mix of watering holes, trendy cafes and grocers for both locals and expats alike. Those who'd prefer to be wined and dined will be spoilt for choice — take your pick of romantic restaurants and then head to 2am: dessertbar by Chef Janice Wong for a symphony of sophisticated sweets.
Just across the road, venture to the beautiful black-and-white terrace houses at Chip Bee Gardens. Reminiscent of Singapore's colonial past, these are a nod to key architectural styles — the Plantation House Style and Tropical Edwardian Style stem from a range of varying influences such as the Tudorbethan revival style, the Arts and Crafts movement, and the Art Deco Movement.
Away from the hustle and bustle of the main Holland Village intersection, the restaurants at Chip Bee Gardens provide a more intimate dining experience. There's even impressive mediterranean-Italian vegetarian food to be had at Original Sin.
By 2022, Holland Village will be expanded to double its size, offering even more leisure, dining and shopping options.
Upcoming developments in the Holland Village area include the freehold Van Holland by Koh Brothers (TOP 2023), and the mixed-use One Holland Village Residences by Far East Organization (in partnership with Sino Group and Sekisui House).
See what other homes are available in the Holland Village area.
8. Pasir Ris
East side, best side?
There are so many reasons to stay in the east of Singapore. The food is said to be tastier there, there are quite a number of parks and beaches (East Coast Park, Bedok Reservoir Park, Pasir Ris Park)… and of course, the best airport in the world is just close by.
Let's focus on Pasir Ris. It has a breezy beach for your midnight strolls and star-gazing sessions. There are also barbecue pits, bicycles, inline skates and water sports equipment for rent, and even pony rides for your little ones.
If you've exhausted all of these date options, tackle one of the trails into the 6-hectare mangrove forest or shift your gaze from each other to the various native birds from your vantage point at the Bird Watching Tower. At Pasir Ris Park, you can also lease a gardening plot to nurture together or even do good as a pair at the mangrove clean-up activity.
You'll have no excuse for a quick getaway, as both Changi Airport and the Changi Ferry Terminal are nearby. There's always something romantic about travelling, just the two of you exploring a foreign land together.
This May, new BTO flats will be launching in Pasir Ris; there'll be 1,070 units in all. Check out more properties in Pasir Ris here.
This article was written by Mary Wu, who hopes to share what she's learnt from her home-buying and renovation journey with PropertyGuru readers. When she's not writing, she's usually baking up a storm or checking out a new cafe in town.