Roman Philosopher, Gaius Plinius Secundus coined the phrase, "home is where the heart is".
For most of people in Singapore, your home may be the largest single investment you may ever undertake. It will also be the place you spend the majority of your adult lives, and you could potentially spend even more time in your home if current work-from-home (WFH) trends stay.
Naturally, you'd want the interior of your home to be a place you're comfortable with, suits your needs, and even a reflection of your personality. If you are looking to move into your new house or thinking of doing a makeover of your current home, here is a list of seven home renovation/improvement shows to get some inspiration from.
| | |
| --- | --- |
| Renovation show | What it is about |
| Designer in the House (meWatch) | Local renovation show hosted by Yasminne Cheng |
| RenovAID (meWatch) | Local renovation show featuring underprivileged homeowners; hosted by Belinda Lee |
| Home and Décor (YouTube Channel) | Features home design tips and house tours of nicely renovated homes   |
| House Everything? (meWatch) | Local home makeover show, focusing on transforming cluttered homes; hosted by Chen Han Wei (in Mandarin) |
| Tidying Up with Marie Kondo (Netflix) | Reality tv show where Marie Kondo helps guests to declutter their homes using her KonMari method |
| Apartment Therapy (YouTube Channel) | Short videos on DIY renovation projects and house tours of beautiful homes |
| Tiny House Nation (Netflix) | Reality tv show about building houses under 500 sq ft in size |
1. Designer in the House
What is it about: Designer in the House is a local renovation show that connects couples with interior design professionals who help transform their homes into dream spaces. Viewers are taken behind the scenes and given an insider look at the ins and outs of a renovation project from start to finish.
Why you should watch it: This show is perfect for locals looking for renovation ideas for their apartments, be it a HDB flat or a condominium. Viewers get exposed to some of the modern designs and latest renovation themes. The show also provides a cost breakdown on the budget you should set aside for such a renovation.
Where you can watch it: The show hosted by Yasminne Cheng has run for two seasons since 2016 and can be viewed on meWatch, an on-demand video streaming service by MediaCorp. 
2. RenovAID
What is it about: A local home improvement show that features underprivileged homeowners who require help and assistance with their home renovations. RenovAID highlights the different struggles of the underprivileged and how the interior designers navigate these challenges to renew, rebuild and revitalise the featured homes with not only new furniture and fittings but also interior design ideas to improve their living conditions.
Why you should watch it: The show highlights simple and practical home designs for the disabled as well as other underprivileged groups that can help improve their quality of life in their renovated homes. The show also provides affordable consumer tips on choosing tiles, furniture and fittings.      
Where you can watch it: The show has been running for 11 years since 2009 with 9 seasons so far, with the latest season hosted by Belinda Lee. It can also be viewed on meWatch.
3. Home and Décor Singapore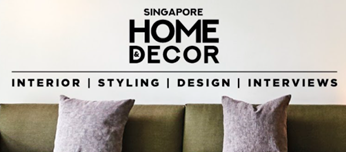 What is it about: It is the web extension of Singapore's leading and established interior design magazine, Home & Décor. It features some of the most innovative home designs, the latest décor trends and furnishings, accessories as well as design-industry tips, ideas and know-how.
Why you should watch it: There are many home tour videos giving some first-hand look at home designs that might inspire viewers. The channel also has other videos on shopping tips, buying of mattress tips, table setting tips, gardening tips, amongst other useful design idea-based videos. 
Where you can watch it: The videos are available on YouTube. The channel is updated with one or two new videos every month.   
Interested in renovating your home? Read more of our top home improvement guides here: 
4. House Everything?
What is it about: The show positions itself as a home-transformation program that features homeowners with cluttered homes and living spaces and aims to not only revitalise their living spaces with new designs and make improvements to their storage spaces, but also provide useful tips to declutter and maintain an organised living area.
Why you should watch it: Most of us may be guilty in one way or another of either hoarding items that we do not need or have a disorganised living condition. This show is unique in that it is not only a home renovation program that gives home design ideas to improve storage spaces but it also gives useful tips on how to tidy up our cluttered living spaces.    
Where you can watch it: The first season of this program, hosted by Chen Han Wei in 2019 can be viewed on meWatch. Though this a local mandarin program, there is English subtitle available for those non-mandarin speaking viewers.
5. Tidying Up with Marie Kondo
What is it about: Tidying Up with Marie Kondo uses the KonMari method founded by the host, Marie Kondo who is an expert organising consultant, to help the participants to better organise and declutter their homes and living spaces.   
Why you should watch it: Many of you may not admit to having an issue with the organisation of your possessions. However, you may just rethink this approach after watching the show and start decluttering and decide on which items "spark joy". A decluttered house would not only feel like living in a new house but research also suggests "clean organised environments" have a variety of psychologically beneficial effects such as clearer thoughts processes, increased confidence and abilities.
Of course, living in Singapore, where home sizes are already small, decluttering can also make your living space feel much more open.
Where you can watch it: This reality tv show was developed for Netflix in 2019 and is available for subscribers.   
6. Apartment Therapy
What is it about: Apartment Therapy is a YouTube Channel that focuses on providing tips on all things you need to create a home that's happy, healthy and unique to your personality. This includes on-trend DIY home décor projects, home tours of some super chic apartments. 
Why you should watch it: The content is in bite-sized format and addresses common questions which one might have when either one is looking to declutter their homes or need ideas for renovation. 
Where you can watch it: This is a YouTube channel that has been around since 2014, producing regular content on a weekly basis.
7. Tiny House Nation
What is it about: Tiny House Nation is an American reality tv show inspired by the tiny house movement. The show is hosted by renovation experts John Weisbarth and Zack Giffin, who assist families around USA to design and construct small houses no bigger than 500sqf.
Why you should watch it: Though we may not be able to build our own homes like the folks in USA, the show gives plenty of ideas and inspiration on how to use the available space to create more space and pack more living necessities within the small constraints of space. This show would appeal more to those looking to renovate their studio apartments. Others can also draw inspiration on how to optimise the space they have in home here.
Where you can watch it: Though this programme was first launched in 2014 on the FYI (an American basic cable channel), it is now available on streaming on Netflix and the National Geographic channel.  
Bonus – Check Out The PropertyGuru YouTube Channel!
Okay, okay… So we're not a renovation or home improvement brand, but we do have great content on the PropertyGuru YouTube channel!

What is it about: If you follow us on Facebook, you'd know that we host regular webinars featuring our experts Dr Tan Tee Khoon (Country Manager – Singapore) and Paul Wee (Managing Director, Fintech), and this is where we upload recordings of them. We also produce beginner-friendly videos that introduce property-related concepts to newbies.  
Why you should watch it: Our videos break down complicated property topics and explain them in a fun, educational way. Just check out our video on HDB Sale of Balance Flats, or the one on What is Refinancing!
This channel also hosts videos from our other brands in the region, which may be helpful for those looking to familiarise themselves with other markets before investing overseas properties. We have channels for DDproperty, Rumah.com and PropertyGuru Malaysia.
Where you can watch it: PropertyGuru shares its video content on YouTube and Facebook.
For more property news, resources and useful content like this article, check out PropertyGuru's guides section. 
Are you looking to buy a new home? Head to PropertyGuru to browse the top properties for sale in Singapore.  
Already found a new home? Let PropertyGuru Finance's home finance advisors help you with financing it.
Note: Images of shows and channels used belong to the respective brands featured.