Having a smart home in Singapore is no longer a pipe dream. Years ago, if you told someone that you could talk to your home and get it to control the lights, temperature, locks, or even boil water for you, people would think that you were nuts. 
But now, smart homes are a multi-billion dollar industry. By 2030, the market in Asia is expected to hit $120 billion, or nearly 30% of the global market share, based on a report by AT Kearney. Smart home solutions are even being implemented into BTOs flats and redefining the definitions of what it means to be a 'new gen handyman' in the digital age.
The same report also expects smart home penetration to be high in Singapore, largely thanks to the government's effort to transform the city-state into a well-connected nation.
Homes with smart features are getting increasingly popular among property seekers in Singapore too. According to a survey, 79% of young couples in Singapore said they would consider living in an executive condominium with smart features. 63% of those surveyed also said they were willing to pay $40,000 to furnish their homes with smart technologies. 
Some have even transformed their HDB flat into a cool smart home! With more people becoming increasingly gaga over them, let us try to convince you of the benefits of a smart home. And if you're convinced, here are 5 smart home projects in Singaore you can look at buying.
What are the Benefits of a Smart Home?
It Makes Your Life Easier
According to research, we make about 35,000 decisions each day. These include: deciding what to eat, what shirt to wear, what to buy, which door to take, and what to feed your child.
Imagine spending precious time and energy dealing with these decisions every day. It's exhausting and time-consuming. 
This is known as "decision fatigue". Each time you spend making a decision and think about the choices, you weaken your productivity and ability to focus.
One way successful people like Mark Zuckerberg and Steve Jobs kill decision fatigue is by creating routines.
For example, they wear the same outfit each day. This way, they don't have to waste time deciding what to wear so they have more brainpower to focus on critical tasks that deserve their full attention. 
Therefore, when you think about the number of automated features that you can set your smart home to do for you (e.g. setting the room temperature, switching the lights, locking the doors), you're effectively reducing the decisions you need to make in a day, leaving you with more brain juice for important tasks.
Energy-saving and Convenience
One of the selling points of a smart home, of course, is the convenience of managing all the smart home devices via your phone or voice. This not only allows you to create a home environment that's personalised according to you (e.g. managing your multimedia devices), but it also helps to trim your energy bill.  
For instance, you can set the aircon in your home to automatically turn off when you're not at home, or allow it to regulate the temperature in a room so you can reduce the power consumption of your home. 
Meanwhile, smart LED lightbulbs not only consumes much lesser energy than regular incandescent and fluorescent lights, but you can also set them to turn on/off automatically, or when you need them to. Plus, you can also control individual bulbs, and adjust the light spectrum and colour, among others. 
Ultimate Peace of Mind
How many times have you locked yourself out of your own home, forgot the keys, lost your keys, gave someone the wrong set of keys, or forgot to lock your door when you're on vacation?
The best thing about smart locks is that they give you the ultimate peace of mind; you no longer have to worry about leaving your keys at home, forgetting to lock the door, or carrying any keys with you. You can manage all that remotely via your phone or by voice command.
To beef up your security, you can also opt for a smart doorbell that provides a live camera feed and talk-through feature so you can monitor your house. Some even come with motion sensors that are connected to the police station or a security company. 
Everyone Is R
iding on the Smart Home Wave
You're probably aware that big guns such as Amazon, Google, Samsung, Apple, and Xiaomi already have their smart devices.
Heck, even Facebook – despite the private data and security lapses that have surrounded them lately – jumped on the smart device bandwagon by releasing their own. And they're also in the midst of building their own voice assistant, this was a fun take on their project:
The good news for you is that is as technology progresses and the competition heats up, the cheaper these smart devices will be.
To shed some light, here's a price comparison of smart home devices in 2016 and 2018:
| | | |
| --- | --- | --- |
| Item | Cost in 2016 | Cost in 2018 |
| Dual gang Smart Switch | $106 | $60 |
| Motion Sensor | $95 | $20 |
| IR Blaster | $140 | $20 |
| Door Sensor | $95 | $20 |
| Smart Plug | $90 | $50 |
| IP Camera | $119 | $50 |
| Door Camera | $200 | $200 |
| Smart Home Hub | $980 | $740 |
Source: Home-A-Genius
While the fall in price is mainly driven because of Chinese products, still, it results in more savings for the consumer. It's 2021 now; as smart home technologies continue to develop, you can imagine that these items will have become more affordable and/or improved in quality!
5 Smart Home Projects You Can Find in Singapore 
So, while you can definitely install smart home devices and create your own smart home hub, it takes a lot of investment.
And we're not just talking about money and time, but you also need to decide what type of devices you want, the brands, as well as whether your smart devices are compatible with each other. 
To the uninitiated, this can very daunting. So, why not just get a smart home that already has these features pre-installed for you?
Not only will you spare yourself from all the complex smart jargons and research, but you can also have a home that's already packaged to make your life easier. Below are 5 smart projects you can find in Singapore: 
1. The Tapestry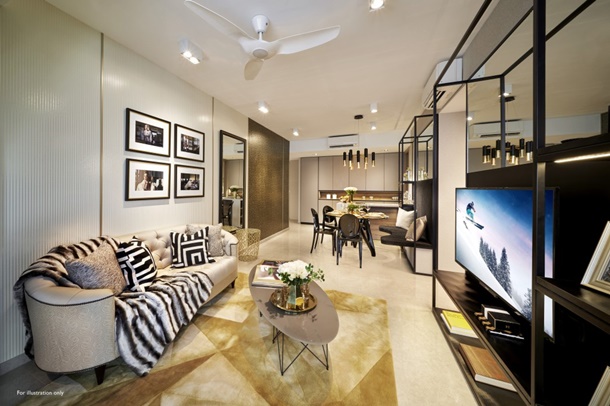 Developed by City Developments Limited (CDL), The Tapestry at Tampines Street 86 in District 18 consists of seven 15-storey condominium blocks with a total of 861 units.
It is the first home in Singapore to integrate Amazon Alexa, allowing residents to have complete control over the smart features in the house (lights, door, aircon, lock) via speech. Of course, this also means you can execute other cool features like getting it to provide the latest news, weather forecasts, reminders or play music according to your preference.
2. The Visionaire
Located next to the upcoming Canberra MRT station, The Visionaire in Sembawang comprises 16 blocks of apartments containing 632 units.
Touted as Singapore's first smart executive condominium (EC), residents can use the hiLife application to remotely control all electronics and appliances in their home. These include the refrigerator, which notifies homeowners on what foodstuffs are running low and lets them automatically buy groceries to replace them.
Aside from smart lighting and aircon, there's also a digital lockset. There's a smart IP camera that lets residents monitor their home remotely, and a motion sensor that alerts you if there are suspicious movements in your unit.
3. The Garden Residences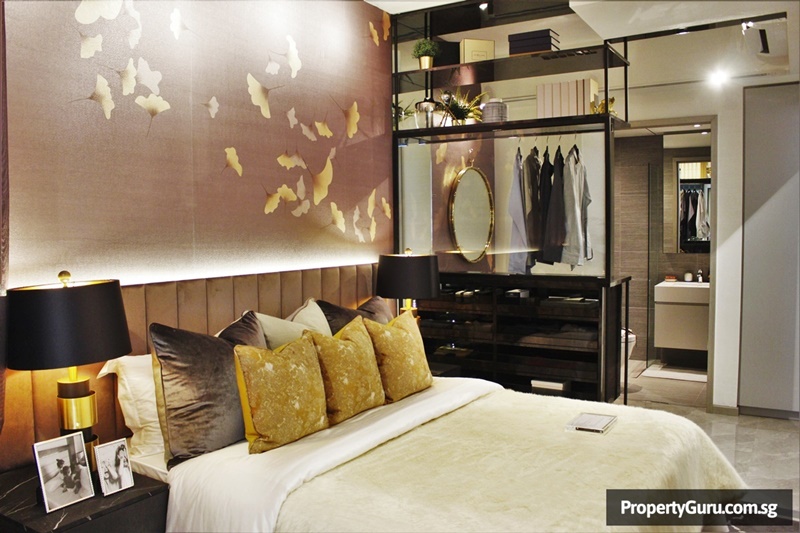 The Garden Residences is a private residential project with 613 units spread across one 15-storey and four 14-storey towers at Serangoon North Avenue 1 in District 19.
The units come integrated with smart features, powered by the Habitap app, which allows homeowners to manage smart features like smart aircon, smart locks, keyless letterboxes, and water heater control.
Aside from that, the app also allows users to conveniently book condo facilities, shop online, order take-outs, receive notifications from the building's management and pay maintenance fees.
4. Le Quest
Qingjian Realty's Le Quest is a 99-year leasehold condominium at Bukit Batok West Avenue 6 in District 23 consisting of five 16-storeys blocks totalling 516 units.
Located near Bukit Gombak MRT station, the development's common areas come with Wi-Fi. The smart features are also powered by the hiLife app, which lets users reserve condo facilities 24/7, pay upkeep, give feedback to the building's management, receive news and notices, monitor the home remotely.
The project's smart home package comes with a smart digital lockset, smart A/C module and smart doorbell.
5. JadeScape
JadeScape is also developed by Chinese developer QingJian. Apart from the smart home features, the project also markets itself as being a stone's throw away from natural parks like MacRitchie Reservoir Park and Bishan-Ang Mo Kio Park. 

The homes come with a slew of smart features, ranging from those that allow residents to monitor simple things like their sleep quality and health vitals, to using voice control to manage appliances. 
The units also come with energy-efficient aircon systems that recycle heat for hot water, thus helping to reduce unnecessary wastage and helping to save electricity in the process. 
Another cool smart feature is the integrated dishwasher that uses ultrasonic sound to remove chemicals from fresh produce. 
More FAQ on Smart Homes in Singapore
How Much Does It Cost to Make Your House a Smart Home?
Depending on how much work you have done, costs can range from $1,500 to $20,000.
What Is the Best Smart Home System
Choose your smart home system depending on your needs. Some popular choices are Google Nest Hub (2nd gen), Amazon Echo (fourth-generation), and Google Nest Wifi.
Does Smart Home Save Money?
Yes, in the long run. Certain smart home feature energy-efficient devices can allow you to save up to 40% in energy costs.
Is a Smart Home Worth It?
Smart homes can be worth the investment despite some downsides as they provide convenience and is generally energy-saving.
For more property news, resources and useful content like this article, check out PropertyGuru's guides section. 
Are you looking to buy a new home? Head to PropertyGuru to browse the top properties for sale in Singapore.  
Already found a new home? Let PropertyGuru Finance's home finance advisors help you with financing it.